Posts for tag: mouthguards
By Rocco Ciccone MS. DDS
June 13, 2019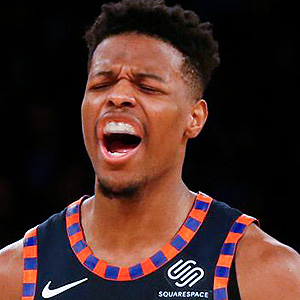 Basketball isn't a contact sport—right? Maybe once upon a time that was true… but today, not so much. Just ask New York Knicks point guard Dennis Smith Jr. While scrambling for a loose ball in a recent game, Smith's mouth took a hit from an opposing player's elbow—and he came up missing a big part of his front tooth. It's a type of injury that has become common in this fast-paced game.
Research shows that when it comes to dental damage, basketball is a leader in the field. In fact, one study published in the Journal of the American Dental Association (JADA) found that intercollegiate athletes who play basketball suffered a rate of dental injuries several times higher than those who played baseball, volleyball or track—even football!
Part of the problem is the nature of the game: With ten fast-moving players competing for space on a small court, collisions are bound to occur. Yet football requires even closer and more aggressive contact. Why don't football players suffer as many orofacial (mouth and face) injuries?
The answer is protective gear. While football players are generally required to wear helmets and mouth guards, hoopsters are not. And, with a few notable exceptions (like Golden State Warriors player Stephen Curry), most don't—which is an unfortunate choice.
Yes, modern dentistry offers many different options for a great-looking, long lasting tooth restoration or replacement. Based on each individual's situation, it's certainly possible to restore a damaged tooth via cosmetic bonding, veneers, bridgework, crowns, or dental implants. But depending on what's needed, these treatments may involve considerable time and expense. It's better to prevent dental injuries before they happen—and the best way to do that is with a custom-made mouthguard.
Here at the dental office we can provide a high-quality mouthguard that's fabricated from an exact model of your mouth, so it fits perfectly. Custom-made mouthguards offer effective protection against injury and are the most comfortable to wear; that's vital, because if you don't wear a mouthguard, it's not helping. Those "off-the-rack" or "boil-and-bite" mouthguards just can't offer the same level of comfort and protection as one that's designed and made just for you.
Do mouthguards really work? The same JADA study mentioned above found that when basketball players were required to wear mouthguards, the injury rate was cut by more than half! So if you (or your children) love to play basketball—or baseball—or any sport where there's a danger of orofacial injury—a custom-made mouthguard is a good investment in your smile's future.
If you would like more information about custom-made athletic mouthguards, please contact us or schedule an appointment for a consultation. You can learn more by reading the Dear Doctor magazine articles "Athletic Mouthguards" and "An Introduction to Sports Injuries & Dentistry."
By Rocco Ciccone MS. DDS
January 14, 2019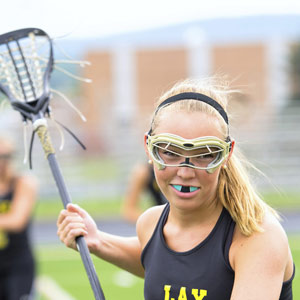 Since boxers first began using them a century ago, athletic mouthguards are now standard safety equipment for most contact sports. Without them, dental injuries would skyrocket.
But a recent study in the peer-reviewed journal, General Dentistry, indicates there's another important reason to wear a mouthguard for contact sports or exercise: you may be able to significantly reduce your risk for a mild traumatic brain injury (MTBI), better known as a concussion. It's believed the mouthguard absorbs some of the force generated during contact, resulting in less pressure to the brain. That reduction is even more significant if your mouth-guard has been custom-made by a dentist.
That last finding is important, because not all mouthguards on the market are equal. There are three basic categories of mouthguards — stock, "boil and bite," and custom. Stock mouthguards come in limited sizes; they're relatively inexpensive, but they provide the least level of protection. "Boil and bite" can be customized after purchase to the wearer's bite, but they don't always provide complete coverage of back teeth. Custom mouthguards are designed and fashioned by a dentist; they're relatively expensive (running in the hundreds of dollars), but there's ample evidence they provide the highest level of protection from mouth injuries.
The General Dentistry study also corroborates custom mouthguards' effectiveness in preventing concussions. The study followed approximately 400 football players from six different high school teams. While all the players wore the same type of helmet, half of them wore custom-made mouthguards and the other half wore stock guards. 8.3% of the athletes wearing stock guards experienced a concussion injury; by contrast only 3.6% of those with custom guards sustained an injury — greater than half fewer occurrences.
The study also highlights the need not to rely solely on helmets or other protective headgear for concussion prevention. It's important to include mouthguards along with other athletic protective gear to lower injury risk as much as possible.
So when considering how you can provide the optimum injury protection for you or your child, be sure to include an athletic mouthguard, preferably one that's custom-made. We'll be happy to advise you further on what you need to know to prevent traumatic dental injuries, as well as concussions.
If you would like more information on custom-fit mouthguards, please contact us or schedule an appointment for a consultation. You can also learn more about this topic by reading the Dear Doctor magazine article "Mouthguards."
By Rocco Ciccone MS. DDS
January 16, 2018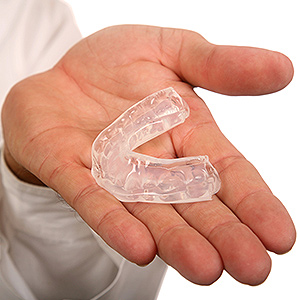 Athletes in contact sports are at significant risk for traumatic injury to their teeth and mouth. It's estimated 600,000 emergency room visits each year involve a sports-related dental injury.
Athletic mouthguards have become the premier safeguard against sports-related oral injuries. First worn by professional boxers in the 1920s, mouthguards are now required for use by various sports associations and leagues — from amateur youth to professional — for a number of sports. The National Collegiate Athletic Association (NCAA), for example, requires their use during play for hockey, lacrosse, field hockey and football. The American Dental Association recommends mouthguards for 29 sports or exercise activities.
But do mouthguards actually prevent injury? To answer that question in a scientific manner, the Journal of Sports Medicine published an evidence-based report in 2007 on mouthguard effectiveness for preventing or reducing the severity of oral-facial injuries and concussions. While the report objectively analyzed many of the problems and issues associated with mouthguards (like materials, design and durability), it concluded the risk of an oral-facial injury was nearly two times greater without the wearing of a mouthguard.
That being said, most dentists and other professionals in sports safety would advise not all mouthguards are alike. The stock, "off the shelf" mouthguard found in many retail stores with limited size offerings is the least expensive, but also least protective, of mouthguard types. Mouth-formed or "boil-and-bite" protectors, which are softened in boiling water and then bit down on by the player to form the fit, are better than the stock version — however, they often don't cover all of the player's back teeth.
The best option is a custom-designed guard made by a dentist for the individual patient. Although relatively expensive (costs range in the hundreds, compared with $25 or less for a stock guard), they provide the highest recognized level of mouth protection.
The bottom line: a mouthguard is a must-wear part of any uniform for any sport that involves contact or high velocity objects of play. If you or a family member is a contact sport athlete, it's essential you protect your teeth and mouth with a custom-fit, high quality mouthguard.
If you would like more information on mouthguards, please contact us or schedule an appointment for a consultation. You can also learn more about this topic by reading the Dear Doctor magazine article "Athletic Mouthguards."