Posts for tag: bonding
By Rocco Ciccone MS. DDS
February 28, 2020
Accidents can happen to your mouth, especially if you have an active lifestyle. For example, a sudden blow to the jaw while playing sports or exercising could result in a chipped tooth. And, while the internal tooth structure may be fine, the effect on your appearance can be disheartening.
Fortunately, we have techniques and materials to restore your smile after an injury. Bonding with composite resin is one such procedure: it's ideal for mild to moderate chipping, especially in highly visible front teeth.
Composite resin is a dental material made of various substances mixed to match the color and texture of natural teeth. The composite is usually made of inorganic glass filler blended with a plastic-based matrix and joined together with a chemical "coupling" agent. The ratio of filler to matrix will depend on the type of tooth and damage — for example, back teeth, which encounter higher biting forces, require a composite with more filler for added strength.
To begin the procedure, we first prepare the damaged tooth by applying microscopic etchings (often with a chemical solution) that create tiny depressions or "undercuts": these help create a seamless bond between the composite and the natural tooth. We then apply the composite in layers with a bonding agent, building up layer upon layer until we've achieved the desired shape for the tooth involved.
Bonding with composite resins doesn't require much tooth preparation, can be placed quickly and is relatively inexpensive. Because of the wide spectrum of color possibilities, composite resins are superior to traditional amalgam (metal) restorations in creating a more life-like appearance. Its application, however, can be limited by the amount of tooth structure needing to be replaced: because it isn't as strong as the tooth structure it replaces, the more tooth structure the bonded composite resin attempts to replace the less likely it can stand up over time to normal bite forces.
Still, composite resins are ideal for mild to moderate damage or disfigurement. If you've suffered such an injury, be sure to visit us to see if bonding with life-like composites is the right solution for restoring your smile.
If you would like more information on bonding with composite resins, please contact us or schedule an appointment for a consultation. You can also learn more about this topic by reading the Dear Doctor magazine article "Repairing Chipped Teeth."
By Rocco Ciccone MS. DDS
June 08, 2018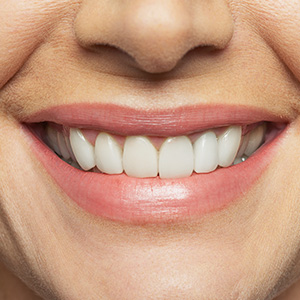 Are you embarrassed by your front teeth? Maybe it's just moderate defects—a chipped tooth here, an irregularly shaped tooth there—but it's enough to make you less confident to smile.
There are a number of ways to transform your teeth's appearance like porcelain veneers or crowns. But a relatively inexpensive method that's less involved is to bond dental material called composite resin to your teeth to correct defects. Made of synthetic resins, these restorative materials can mimic your own natural tooth color. We can also artistically shape them to create a more natural look for an irregular tooth.
If you're looking to change the way your front teeth look, here are 3 reasons to consider composite resins to restore them.
They can be applied in one office visit. Although effective, veneers, crowns and similar restorations are typically outsourced to dental labs for custom fabrication. While the results can be stunning, the process itself can take weeks. By contrast, we can colorize, bond and shape composite resins to your teeth in just one visit: you could gain your "new smile" in just one day.
They don't require extensive tooth alteration. Many restorations often require tooth structure removal to adequately accommodate them, which can permanently alter the tooth. Thanks to the bonding techniques used with composite resins, we can preserve much more of the existing tooth while still achieving a high degree of artistry and lifelikeness.
Composite resins are stronger than ever. Over the years we've learned a lot about how teeth interact with each other to produce the forces occurring during chewing and biting. This knowledge has contributed greatly to the ongoing development of dental materials. As a result, today's composite resins are better able to handle normal biting forces and last longer than those first developed a few decades ago.
Composite resins may not be suitable for major cosmetic dental problems, but you might still be surprised by their range. To learn if composite resins could benefit your situation—even a large defect—see us for a complete examination.
If you would like more information on composite resin restorations, please contact us or schedule an appointment for a consultation. You can also learn more about this topic by reading the Dear Doctor magazine article "Artistic Repair of Front Teeth with Composite Resin."