Posts for: September, 2021
By Rocco Ciccone MS. DDS
September 11, 2021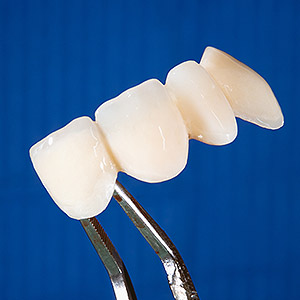 Our primary aim as dentists is to preserve teeth. There are times, however, when preserving a tooth is no longer worth the effort and we must recommend removing it. Fortunately, extracted teeth can be replaced with a functional and attractive restoration.
Today's top tooth-replacement option is the dental implant. Composed of a titanium metal post imbedded into the jawbone, a single dental implant can replace an individual tooth or a series of implants can support other restorations for multiple teeth. Besides being incredibly life-like, dental implants are highly durable and can last for decades.
But dental implants aren't an optimal choice for everyone. Their cost often matches their status as the premier tooth replacement method. And because they require a minimum amount of bone for proper implantation, they're not always feasible for patients with extensive bone loss.
But even if dental implants aren't right for you, and you want a fixed restoration rather than dentures, you still have options. What's more, they've been around for decades!
One is a bonded crown, which works particularly well for a tooth excessively damaged by decay, excessive wear or fractures. After removing all of the damaged portions and shaping the remaining tooth, we cement a life-like crown, custom created for that particular tooth, over the remaining structure.
Besides improving appearance, a crown also protects the tooth and restores its function. One thing to remember, though, is although the crown itself is impervious to disease, the remainder of the natural tooth isn't. It's important then to brush and floss around crowned teeth like any other tooth and see a dentist regularly for cleanings.
Dental bridges are a fixed solution for extracted teeth. It's composed of prosthetic teeth to replace those missing bonded together with supporting crowns on both ends. These crowned teeth are known as abutments, and, depending on how many teeth are being replaced, we may need to increase the number of abutments to support the bridge.
Although durable, crowns or bridges typically don't match the longevity of an implant. And, implants don't require the permanent alteration of support teeth as is necessary with a bridge. But when the choice of implants isn't on the table, these traditional restorations can be an effective dental solution.
If you would like more information on crown or bridge restorations, please contact us or schedule an appointment for a consultation. You can also learn more about this topic by reading the Dear Doctor magazine article "Crowns & Bridgework."
By Rocco Ciccone MS. DDS
September 01, 2021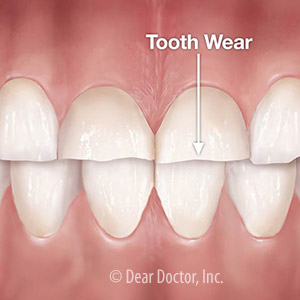 If you do the right things—keep your teeth clean, see the dentist regularly, and eat a "tooth-friendly" diet—you stand a good chance of having healthy teeth and gums later in life. Even so, after eating well over 75,000 meals by age 70, you can expect some wear from all that biting and chewing.
But there's normal wear—and then there's excessive wear, which can be caused by a variety of factors. When it occurs, accelerated wear can increase your risk of dental disease—and your shorter-toothed smile can make you look older than your actual age.
Here are 3 dental problems that can lead to accelerated tooth wear, and what you can do about them.
Tooth decay. This dental disease can severely weaken a tooth's protective enamel surface, which can in turn increase wear. You can minimize your chances of developing tooth decay by brushing and flossing your teeth daily and undergoing regular dental cleanings. And the sooner you receive treatment for any diagnosed decay, the less likely your enamel will suffer significant damage.
Poor bite. Properly aligned teeth mesh well together while biting and chewing, which minimizes wearing. But misalignments put undue stress on teeth that can lead to accelerated wear. By correcting a bite problem through orthodontics, we can properly align teeth so that they interact with each other normally for less wear.
Teeth grinding. This unconscious habit of gnashing or grinding teeth (often during sleep) can produce abnormally high biting forces. Among other adverse outcomes, this can also increase teeth wearing. If you grind your teeth, there are therapeutic methods that could reduce the habit. You can also obtain a custom night guard to reduce biting forces while you sleep.
If you've already experienced excessive dental wear, there are cosmetic options like porcelain veneers or dental bonding that can restore your smile to a more youthful appearance and help protect your teeth. But if you haven't reached that point, you can make sure you don't by taking care of your teeth and gums and seeking prompt dental treatment for problems leading to accelerated wear.
If you would like more information on teeth wear, please contact us or schedule an appointment for a consultation. You can also learn more about this topic by reading the Dear Doctor magazine article "How and Why Teeth Wear."