Posts for: April, 2019
By Rocco Ciccone MS. DDS
April 14, 2019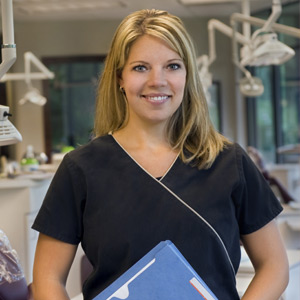 You may think an office cleaning is mainly cosmetic — giving your teeth that polished look and you that pleasant, "squeaky clean" feeling. But your dental hygienist is doing more than making your teeth look great during your cleaning session — they're also providing a valuable service keeping your teeth and gums healthy.
Here, then, are 3 things your dental hygienist is doing during a cleaning session that protects your health.
Removing disease-causing plaque. An office cleaning produces more than a fresh and clean smile. Your hygienist is manually removing plaque and calculus (hardened plaque deposits) in hard to reach places or where it has built up despite your best efforts at brushing and flossing. This built-up plaque is a ready source of bacteria producing acids, which give rise to both tooth decay and gum disease. And for actual occurrences of the latter, plaque removal is an important part of the treatment to restore your gums to a healthy pink.
Checking for signs of dental disease. As your hygienist cleans your teeth, they're also looking for abnormalities in the mouth's soft tissue — lumps, bumps, sores, or swelling — that may indicate something more serious requiring further examination. They're also assessing your overall gum health, probing any areas that might indicate gum disease. And, of course, they're looking for cavities, softened enamel or other signs of tooth decay.
Helping you improve your oral hygiene. As proficient as they are, a dental hygienist can only do so much to help prevent dental disease; the rest — daily brushing and flossing — is on your shoulders. But you're not completely on your own, because your hygienist is your best personal hygiene training partner: not only can they assess how well you're doing in your daily regimen, but they can also give you expert advice and tips on improving your brushing and flossing performance.
If you would like more information on the role of your hygienist in your dental care, please contact us or schedule an appointment for a consultation. You can also learn more about this topic by reading the Dear Doctor magazine article "Dental Hygiene Visit."
By Rocco Ciccone MS. DDS
April 04, 2019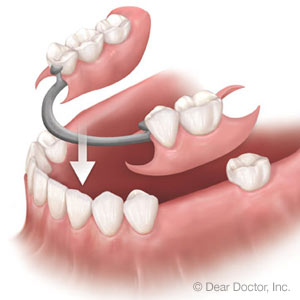 People with missing teeth have more replacement options than ever before, including the ever popular but often more expensive dental implant. But there has also been an expansion of choice on the more affordable side of dental restorations. The flexible removable partial denture (RPD) is one such choice. 
Though RPDs have been around for some time, the newer flexible RPD offers some advantages over the more rigid traditional RPD. They're made of a kind of nylon that's pliable but also strong and durable. This material is thermoplastic, meaning when heated it can be injected into molds based on a patient's individual mouth to form an accurate denture base. The gum-colored base can also be formed to cover any receded areas of the gums, which can greatly improve smile appearance.
Older versions of RPDs are made of rigid acrylic plastic that stay in place in the mouth with metal clasps that attach to remaining teeth. The flexible RPD, on the other hand, is secured with finger-like nylon extensions that fit and hold in the natural teeth's concavities near the gum line. This, along with its relatively light weight, offers a more comfortable fit.
But aside from these benefits, flexible RPDs do have a few drawbacks. Although fracture-resistant, they're not easy to repair or reline to readjust the fit to accommodate mouth changes. They can stain (though not as much as a traditional RPD), so they require diligent cleaning and maintenance.
We consider the whole category of RPDs as "temporary" restorations, meaning they're intended as a transitional phase between tooth loss and a permanent restoration like a natural tooth-supported fixed bridge or dental implants. For some, however, the flexible RPD might be a more long-term solution. As mentioned before, to extend their life as much as possible they should be removed daily and cleaned thoroughly. And like any form of denture, they should not be worn overnight.
In either case, flexible RPDs offer an effective way to restore not only dental function diminished by missing teeth but an improved appearance as well. With careful maintenance, they could serve you well for some time to come.
If you would like more information on flexible partial dentures, please contact us or schedule an appointment for a consultation. You can also learn more about this topic by reading the Dear Doctor magazine article "Flexible Partial Dentures: An Aesthetic Way to Replace Teeth Temporarily."