Posts for: March, 2018
By Rocco Ciccone MS. DDS
March 17, 2018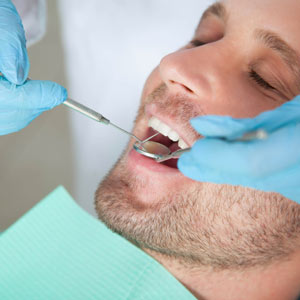 Semi-annual office cleanings are important for keeping teeth healthy and disease-free. If you've replaced some of your teeth with dental implants, though, you may be thinking they don't need as much attention from your hygienist.
It's quite the opposite — cleaning around implants is important, and actually requires additional attention. The reason for this relates to both how dental implants attach to the jaw and their constructive materials.
Natural teeth are held in place by the periodontal ligament with tiny fibers that attach to the teeth on one side of it and to the jawbone on the other. The ligaments and the gingival (gum) fibers (which are also attached to the tooth) provide some disease resistance to the teeth through its rich blood vessel and collagen network. Dental implants, on the other hand, anchor directly into the jawbone. The titanium integrates with the bone, which naturally attracts to the metal and grows around it, which provides the implant's eventual attachment strength. The implant doesn't attach to the gum tissue and won't develop the same relationship with the periodontal ligament as natural teeth.
Bacterial plaque, the primary cause for tooth decay and periodontal (gum) disease, can collect on an implant crown just as readily as on a natural tooth. Although the materials that make up an implant can't be affected by a plaque-induced infection, the gum tissues and supporting bone around it can. In fact, because implants lack the disease resistance of the gingival fibers and the ligament attachment, an infection can turn rapidly into a condition known as peri-implantitis that could cause bone and tissue loss and lead to the loss of the implant.
Your hygienist understands the importance of removing plaque and calculus (hardened plaque deposits) from around your dental implant. This often calls for different instruments made of plastics or resins that won't scratch the implant's highly polished surface. Scratches provide a haven for bacteria to collect and make it more difficult to dislodge them. Likewise, if the hygienist uses ultrasonic equipment that loosens plaque through vibration, the hygienist will often use nylon or plastic tips to minimize damage to the implant.
And don't forget your own personal hygiene habits — they're just as important with dental implants as with natural teeth. Keeping plaque under control, both at home and with your dentist, is crucial to longevity for your dental implants.
If you would like more information on maintaining and cleaning dental implants, please contact us or schedule an appointment for a consultation. You can also learn more about this topic by reading the Dear Doctor magazine article "Dental Implant Maintenance."
By Rocco Ciccone MS. DDS
March 02, 2018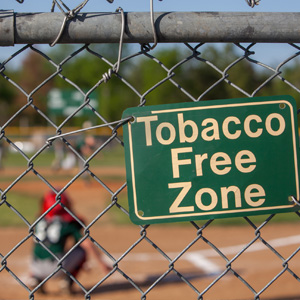 Spring means different things to different people—but to baseball fans, it means just one thing: the start of another thrilling season. All 30 Major League Baseball teams begin play this month, delighting fans from Toronto to Texas and everywhere in between.
The boys of spring carry on an age-old tradition—yet baseball is also changing with the times. Cigarette smoking has been banned at most ballparks for years; smokeless tobacco is next. About half of the MLB venues now prohibit tobacco of any kind, including "snuff" and "dip." What's more, a recent contract agreement bars new Major League players from using smokeless tobacco anywhere.
Why all the fuss? Because tobacco isn't safe to use in any form. People who use smokeless tobacco get just as much highly addictive nicotine as cigarette smokers. Plus, they get a mouthful of chemicals that are known to cause cancer. This puts them at higher risk for oral cancer, cancer of the esophagus, pancreatic cancer and other diseases.
A number of renowned ballplayers like Babe Ruth, Curt Flood and Bill Tuttle died of oral cancer. The death of Hall of Famer Tony Gwinn in 2014 focused attention on tobacco use in baseball, and helped lead to the ban. Gwynn was convinced that his addiction to smokeless tobacco led to his getting oral cancer.
Yet tobacco isn't the only cause of oral cancer. In fact, the disease is becoming more common in young people who do not smoke. That's one more reason why it's so important for people of all ages to keep to a regular schedule of routine dental exams. These visits offer a great opportunity to detect oral cancer in its earliest, most treatable stages.
So as you watch your favorite team, take a tip from the professional athletes' playbook. If you don't use tobacco, don't start. If you do, now is a good time to quit. For help and support, call an expert at 1-800-QUIT-NOW or visit smokefree.gov.
If you have any questions about oral cancer, please contact us or schedule an appointment for a consultation. You can also learn more by reading the Dear Doctor magazine article "Diet and Prevention of Oral Cancer."